New and Improved Features
IFP 3.3.7 includes the following new and improved features:
MultiTask viewer
MultiTasks now allow access to the details of their AutoTasks, along with the ability to edit those AutoTasks directly to update them or fix errors/warnings.
Errors/warnings are clearly highlighted and if present, the MultiTask cannot be run, preventing them from failing part-way. Viewing the individual AutoTask results after running the MultiTask has also been made easier.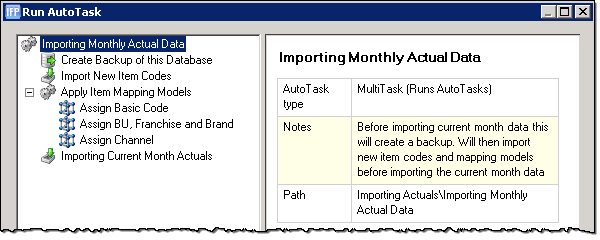 Bug Fixes and Minor Changes
All of the following issues have been addressed in this release:
[IFP-2587] - Relative period AutoTasks can now be edited, even in a month where they will have no effect
[IFP-2588] - Relative period AutoTasks no longer incorrectly show as having an error where they will run with no effect
[IFP-2366] - Clear target file no longer gets set by default when a conversion table is selected
[IFP-575] - Row comments in Forecast Editor did not always display while hovering over the row header
[IFP-2083] - Improvements to Data File Suffix Validation - allowing a wider range of suffixes
[IFP-2339] - Crosstab Vol/Price/New/Mix variances always compared with 1st file
[IFP-2596] - Applying calculations in Forecast Editor didn't always refresh subtotals
Release Date
IFP 3.3.7 was released on 23rd October 2017.
Version Number
The version number for this release is 3.3.7.12324.