You can add shortcuts (known as Starred Items) for your favourite Packages, Dashboards or AutoTasks to the relevant menu of IFP Home so that they can be opened with a single click: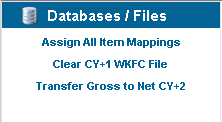 To add a Starred Item, such as a Package to IFP Home:
Open the relevant Manager e.g. Reporting > Package Manager.
Select the item to be starred and either right-click > Add Star, or click 
Close Manager - the starred item will be displayed in the left navigation.
Click the starred item to run it.
To remove the Starred Item from IFP Home, simply right-click the item you wish to remove and click

. You can also Remove Star in the relevant Manager.