Note: In IFP 3.3.3 and earlier, Starred Items were known as Favourites.
What are Starred Items and why use them?
You can choose to show your most used/most important files/processes in a Starred Items folder, meaning you no longer have to search through a folder structure for items you use frequently - just Star them and they will be easily available.
You can add a star to any of the below file types:
AutoTasks

Packages

Dashboards

Projects

Data Favourites

Item Favourites

Report Definitions

Crosstabulation Definitions

Graph Favourites

Field Mappings

Code Conversion Tables
Starring an Item
You can star a file either in a File Manager (e.g. Package Manager) or when selecting a file (e.g. when selecting a Package for a report).
Select the file and click Add Star



The file will appear within the Starred folder.
Adding Starred Items to IFP Home
Note: In IFP 3.4.2 or later, you are also able to add a Database Star (dependent on permissions). This will star the item for all users who have access to the database.
Any Starred Packages, AutoTasks and Dashboards will also be shown on the relevant menu of IFP Home, so that they can be opened with a single click: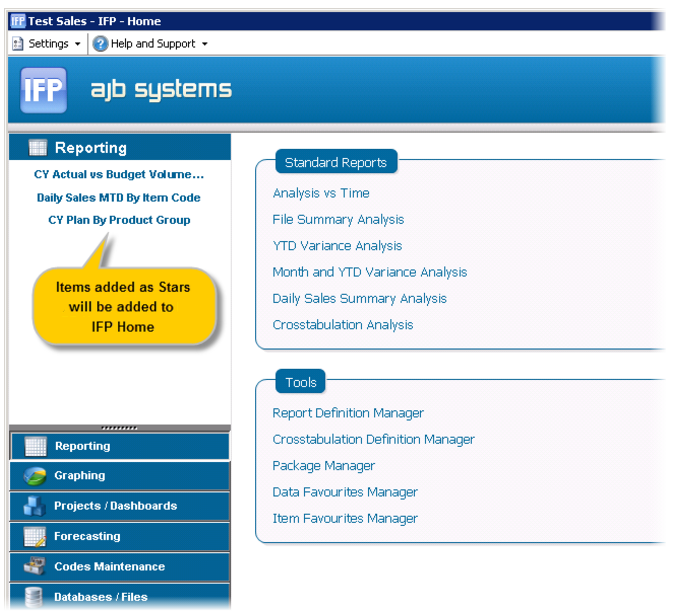 Removing Starred Items
If no longer required, Stars can be removed by selecting the relevant item and clicking Remove Star. Stars can also be removed from IFP Home by right-clicking the item on IFP Home and selecting Remove Star.