Overview
Values are determined by a simple calculation based upon values for one or more other lines, using Add (+) and Subtract (-) operators. 
Adding a Simple Calculation Line
Click Add to create a new line definition.

Change the line type to Simple Calculation Line.
Give it a description e.g. Total.
Under Line Definition, select the lines required for the calculation.
 
Example
The Total for Cleareze + Power Clear is defined as follows: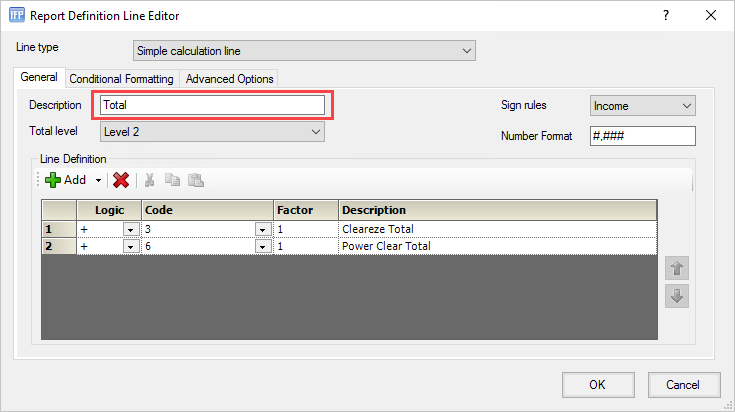 This produces a Total line on the report: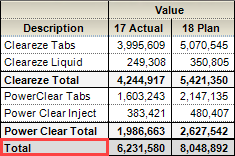 Description
This will be the text shown in the description column in reports that use this report definition
Total Level
This is the level at which the calculation total is created. See Totalling Levels.
Sign Rules
This is used to determine whether a figure is treated as an expense or income amount when setting signs for any variances included in the report. See Sign Rules.
Number Format
This determines the display format of values included in the report. See Number Formatting.
Line Definition
When setting line definitions, the following fields are available for each component
Logic
Each component may either be defined as being an Add (+) or Subtract (-)  calculation.
Code
This is used to specify the lines that are used in the calculation. Click the button in this field to obtain a list of the available lines (only lines above the current one are listed).
Factor
This sets the factor to be applied to each line in the calculation. By default, this is 1, but may be set to any number (positive or negative).
For example, a line with factor 0.6 will give you 60% of the value of the defined items.
Description
This is purely a description to aid identification of the component and is not shown in any report output. When you choose an entry from a list, this will be set automatically. You may, however, edit it as you wish.
Advanced Options
There are several advanced options that can be used in creating a Report Definition. See Line Definition Advanced Options for more on these options.
Conditional Formatting
Conditional Formatting can be applied when creating a Report Definition. See Conditional Formatting for further information on creating these rules.
For information on adding other calculations into a line, see Other Calculated Line Types in Report Definitions.