Overview
Classification Variable Columns are used extensively to define columns in Crosstabulation Reports based upon values of one or more selected classification variables. This topic shows how to define this type of column in Crosstabulation Definition Editor.
General Properties
This type of column is only available where one or more classification variables have been selected on the General properties tab.

Where more than one classification variable is selected here, the definitions of each column must be created using concatenated codes for the selected variables in the same order as they appear in the above list. For example, if Company and ProdGrp were selected here then column definitions must use codes in the format [Country][ProdGrp]
Column Definitions
Column definitions here must be specified in the format [Code][First Period][Last Period]. For example, column 1 is defined as follows:
Code = W31

First Period = 01 (January)

Last Period = 12 (December)
Notes
:
Codes must be specified using the total length of the classification variable(s) concerned, e.g. ProdGrp is a 3 character variable.
Wild cards may be used in codes, e.g. W3? specifes all ProdGrp codes starting with W3.

Column definitions may be entered manually or developed automatically using the wizard below.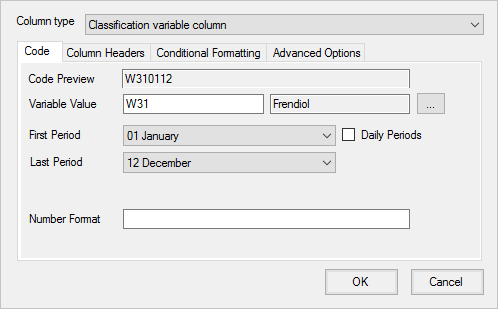 Variable values (codes) and descriptions for individual values of ProdGrp may be obtained using the Browse button.

For a full list of Column Types, see Crosstabulation Column Types.