Overview
The Classification Variable Column, allows you to create a column based on the Classification Variable(s) that have been selected on the General Tab in the Crosstab definition editor.
Creating the Code
The correct code can either be manually input, if known, or selected by pressing the Browse button. In the example below the classification variable selected was customer, requiring a three digit code (004), the other part of the code is derived from the periods required, here January to March (0103).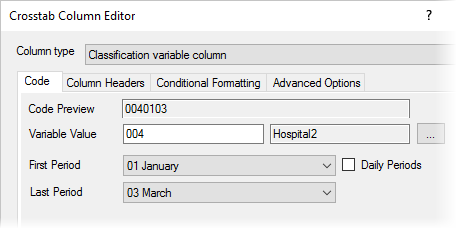 If more than one classification variable is chosen e.g. if both Therapy Group and Customer have been selected on the General tab, the classification variable codes are concatenated in the order of the list in IFP without any separators e.g. to select the Customer Hospital2 (004) in Therapy Group IVF (64) the complete code would be 64004 if Therapy Group is further up the list.