Scenario
You build a Project and leave Open the Project when the build completes checked. The project appears to build, but on opening, an IFP bug report appears instead.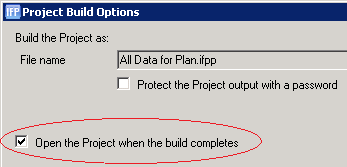 Cause
This is one of a number of issues related to database Public Documents and Source Files paths under certain Citrix configurations.
It can occur when the database's Public Documents path is set to something such as \\Client\X$\ExampleFolder, where users have a drive mapped to the Public Documents and that drive mapping is set in IFP as the path rather than the direct path to ExampleFolder.
It appears that older versions of Citrix recreated the client drive mappings on the IFP server and IFP therefore used the direct route, whereas newer versions of Citrix now send data via the client for that type of path (meaning a much longer route).
Solution
Set the Public Documents path for the database to the direct path to the required folder, rather than a client drive mapping one (and the same for Source Files, if required).
Example
If the user has X:\ mapped to \\NASShare1\IFP, and the database Public Documents set to \\Client\X$\PublicDocuments, then Public Documents should be set to \\NASShare1\IFP\PublicDocuments. The user can retain the X:\ mapping for access to the folder via Windows Explorer.