This topic is intended for those using IFP 3.3.7 or earlier. Those using IFP 3.3.8 and later should see Major System and Database Issues.
Scenario
There may be occasions when you receive the following message:
WARNING: Database is in RECOVERY MODE.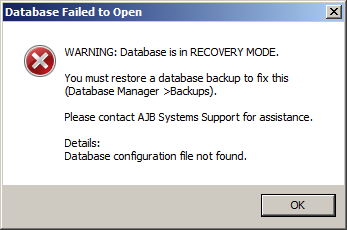 Cause
There are several reasons why your database will go into Recovery Mode; the most common being network or disk space issues or that a configuration file is missing. These issues will prevent IFP from working correctly; therefore the database is put into Recovery Mode.
You will also see this error if you do not have access to the Public Documents folder. To check this location select Databases/Files > Database Manager > Edit Settings > Advanced Settings. If you are unable to see this option contact your Local Administrator
Solution
Do not restore a database backup as the message suggests. Instead, please read the information below.
You should first try to obtain further information on the reason for this message. If it is available, click Database Manager > DatabaseAudit Log. The most recent entries should provide you with more detail regarding the Recovery Mode error.
If this error relates to the NAS, SQL or other network issues then you should provide this information to your IT Helpdesk, who should be able to help further.
Often, these issues are temporary, so logging out and then back in again is also worth trying.
Should you have any doubt over what you should do next when receiving a Recovery Mode message, please contact AJB Systems Support.