This issue was resolved in IFP 3.5.3.
Scenario
With certain Regional Settings and combinations of cell formulae, exporting a report to Excel generates an IFP Bug Report.
Cause
The Windows Regional Setting has the Decimal Symbol and List Separator set to the same character. This is unique to certain Regional Settings e.g. English (Switzerland). Most use different characters for these settings.
Workaround
Change the system List Separator to the same character that Excel uses. This is the character that you type when entering formulae in Excel e.g. semi-colon.
Note that this setting may be used by other applications (although Excel manages it differently).
Search Windows for Region Settings.
Under Related Settings, click Additional date, time & regional settings.
In the next dialog, click Region, then Additional Settings.
If the Decimal symbol and List separator fields are both the same (e.g. under English (Switzerland) these are both set to comma), type a different List separator e.g. semi-colon. Click OK.

Restart IFP and try exporting a report to Excel again.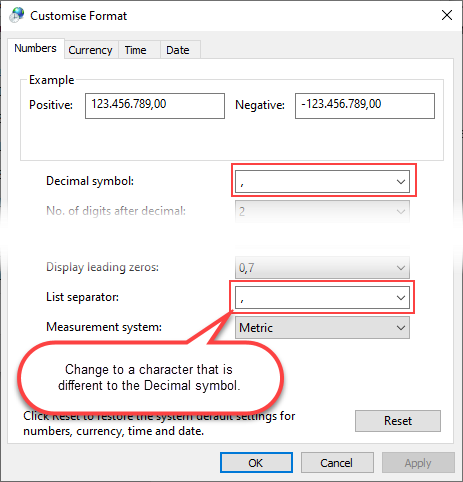 Solution
This issue was resolved in IFP 3.5.3. Upgrade to the latest version of IFP.